Part one of two.
I'd like to change the world in profound ways, but in the near term I'll settle for small change in just my community.
So let's start small.
I seek to change the behavior of people who park in bike lanes. Starting small means I'll focus my efforts on only the most egregious violators. In my opinion, the most egregious bike lane scofflaws are:
1. Those who, by parking in the bike lane, force cyclists to ride out into traffic on roads with fast moving or otherwise perilous traffic.
2. Those who, by choosing to block bike lanes, completely deprive cyclists of the lane's use. This is different from the above type insofar as it's not clear what happens to the displaced cyclists. Do they take an alternate route (perhaps on a dangerous road)? Do they – after chronic misappropriation of their safe route – stop cycling and turn to driving or taking the T?
All bike violations are created equal in the eyes of the law. Each makes the driver eligible for a $100 "marked lane violation" fine. But the impact of the lane-block can be markedly different depending on the greater context: violation location, time of day and other context.  Context is important.  Sometimes a blocked bike lane creates little danger to cycling and is a minor inconvenience to get past.  Elsewhere, a blocked bike lane can cause great peril for cyclists.
I'll try to clarify through examples below:
Example 1: Atlantic Avenue in Boston heading northbound from South Station.
There are three relatively narrow (10'-11') car lanes and a 6' bike lane. Drivers occasionally block the bike lane, and many of those blockers don't stay long. Some for as short as a minute (e.g., dropping off a passenger), and others longer: the taxi queue in front of the Intercontinental Hotel for example.
These drivers used to upset me greatly until I realized they pose little danger to me (granted they might make a big difference to another cyclist). This is because the roadway and lane width combine to force a certain behavior on drivers: When one motorist pulls into the bike lane blocking the curb, the rightmost road lane is effectively blocked. The roadway itself is still only 3 car lanes plus about 6' wide. 99% of the time, I simply ride around the bike lane blocker in the remains of the right most car lane. It helps greatly that traffic on Atlantic Ave moves slowly because lights are spaced so close together, making it pretty comfortable to ride out into the vehicle travel lane to get around a bike lane blocker.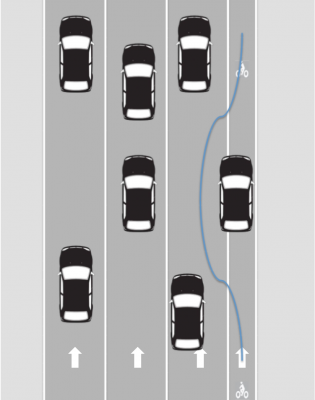 Relatively safe to pass the parked car
Example 2: No specific location. Here is the context: Driver is using the bike lane for 'long term' parking (I'll define as: greater than 5 minutes). Road is 15 or so feet wide, which encourages drivers to travel at 40 MPH or greater regardless of the posted speed limit. The cyclist puts him or her self in great danger to get around the illegally parked car.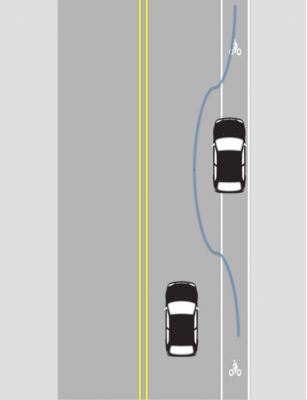 Cyclist is in great peril when passing this lawbreaker's car
I want to target these drivers for behavioral change. These are the ones putting people in greater peril.
Part 2 will introduce how I intend to compel some behavioral change.